Recently, we discussed how we will be celebrating the 8th anniversary of "Show Me Your News!" this coming weekend (July 23-26). It will certainly be more special than last year's shenanigans, as Peter and Rachel will be getting married on Saturday! What follows is what we hope is the streaming schedule over at twitch.tv/smynnetwork – though all of this is subject to change. All times are Eastern Time.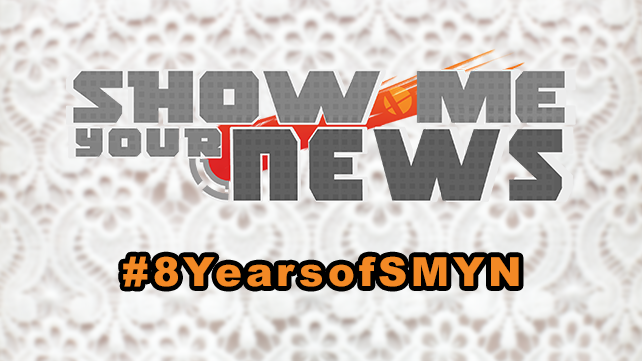 (Updated Friday, 8 AM ET)
FRIDAY – JULY 24th [ALL-DAY STREAM]
12p-1p — Sporcle Trivia
1p-2p — Dark's Secret Browser Game and Robot Dinosaurs That Shoot Lasers When They Roar
2p-3p — Katamari Damacy
3p-4p — PlayStation All-Stars: Battle Royale
4p-6p — Rock Band 3
— JACKBOX PARTY BLOCK —
6p-7p — You Don't Know Jack 2015
7p-8p — Drawful
8p-9p — Fibbage
9p-END — P.T.
SATURDAY – JULY 25th – [WEDDING and DOBA GAME STREAMS]
11:30a — WEDDING (This may be hosted live at http://www.ustream.tv/channel/smynyouko)
(BREAK – Following Saturday streams without Peter or Rachel)
4p-5p — RTM Christmas Smash Bros.
5p-6p — Sonic R
6p-7p — Dragon Ball Xenoverse
7p-8p — Donkey Kong 64 Multiplayer
8p-9p — Rocket League w/ Ben
9p-10p — Kirby's Air Ride
10p-END — Mario Party 2 or 3
SUNDAY – JULY 26th – [EXTRA RANDOMNESS]
12p-4p — Super Smash Bros. Gauntlet
OTHER EVENTS TO FOLLOW:
– Rachel puts makeup on Joe
– [QRT] Never Have I Ever/Truth or Dare [only the Bride and Groom accept dares]
– The Pokémon Drinking Game
– Mario Kart 8 DUI
– Cranium
– Cards Against Humanity
All current and future livestreams take place at our Twitch.TV account, so be sure to subscribe to that channel for updates!