We are less than 48 hours away from Sony's teased "Future of PlayStation" press conference in New York City. A stream will be shown across the web live on Wednesday, February 20th at 6 PM ET (3 PM PT). Multiple sources are reporting that this will feature the reveal of Sony's next home gaming console, to succeed the PlayStation 3. The anticipation is palpable. As a gamer, the more I use Sony's PS3 and PlayStation Vita, the more I find myself excited for this event. While this was discussed on the latest episode of Show Me Your News, I figured it was a good idea to take a look in blog form at the things that should be unveiled for a SUCCESSFUL reveal of PlayStation's future. Read these after the break!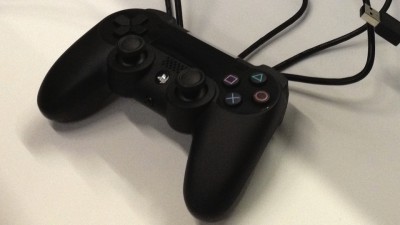 THE NAME
Obviously, learning the name of the console is critical for a successful reveal. What has been known internally as "Orbis" should create a public identity for itself in New York City on Wednesday, but what will that name be? Will it be PlayStation 4? Will the Orbis name stick, as 'Orbis Vitae' (think Vita?) means 'circle of life' in Latin? Or will it be something else entirely? With Sony still recovering from heavy, company-wide financial losses, don't be surprised to see the PS4 name become the moniker. PlayStation is still a powerful brand and Sony needs that kind of identifiable, numbered chache with its consumers, now more than ever. Still, with a few months to go until E3, Sony needs to take this opportunity to make itself stand out, especially against its Microsoft competition. Naming their next console is a necessary way to start shaping that public opinion.
THE CONTROLLER
A good console reveal also involves showing how we will play the games of the future. Naturally, this involves showing the system's controller. Early reports have stated that Sony will be doing away with the Dualshock design that has served them so well in the console market over the years. While we don't know exactly what will replace it, despite leaked images of prototypes, these same reports suggest that a kind of touch screen interface is supposedly involved. Before everyone starts jumping on the "Wii U ripoff" bandwagon, I would not be surprised to see some visual and technical elements borrowed from PlayStation Vita in the new controller. The controller design and functionality is still up in the air, but it is something that needs to be addressed.
This raises two interesting talking points, however – ones that I don't think will be discussed at the reveal, but all the more power to Sony if they do. Will the Vita be able to double as a controller? It would make sense for an attempt at the second-screen experience, which Nintendo and Microsoft are trying to do, and it would also help give a much-needed boost to Vita sales. Obviously, Vita would not be a necessary controller, but it would be a nice perk for those who already have one. Also, will Sony continue to support PlayStation Move on the new console? My hope is that they abandon that failed experiment and keep that exclusive to PS3. Yet, the colored panel on the protorype controller might suggest differently. I think Move's functionality with the system really depends on if the new console will be backwards-compatible with PS3 games or not. Ultimately, Sony can't really afford to have an expensive controller setup, but pricing figures will likely be left for E3.
THE HOOK
Simply, why should we care? This is probably the biggest question Sony must answer at this hardware reveal. If the only catch with this machine is its increased performance and graphical capabilities, then get ready to hear some analysts dooming the device immediately. These rumors have been the most intriguing and suspicious, when the most discussed new feature of the system is the ability to record up to fifteen minutes of gameplay and share it at the press of a button. Another interesting rumor that has surfaced focuses on the new system's ability to use Gaikai and stream PS3 games to compensate for a possible lack of disc-based backwards compatibility. This aspect of the console's reveal should be what most, if not all prospective buyers have their eyes and ears trained on. In today's gaming industry, a console needs to be able to distinguish itself from its competition and bring something new to the table. If the PS4 just amounts to a souped-up PS3, that's not good enough. After all, video games are about more than just graphics.
THE GAMES
However, a console is nothing without games. What can we hope to see revealed at this meeting, when these kinds of leaks have been surprisingly minimal? Analysts have made a good point by shifting the focus to studios that have been surprisingly quiet lately. For example, Naughty Dog (Uncharted franchise) is a two-team studio, so with one team finishing The Last of Us, this leaves the other open to announce something. Sucker Punch (inFAMOUS franchise) is also due to tease a new game, as is Guerrilla Games (Killzone franchise). Evolution Studios (Motorstorm franchise) has already made such a tease known, plus it wouldn't be surprising to see Media Molecule (LittleBIGPlanet franchise) throw their hat in the ring. Gamers can't help but wonder if these games will be sequels or brand new intellectual property concepts. Also, the launch lineup window must be considered – if most of Wednesday's revealed games don't show up in the first couple months of the console's launch, the system might be in some early trouble.
Something that might escape the minds of most gamers is that the possibility exists for games to shift their launch to the new console. What may have been initially intended to debut on PlayStation 3 may instead launch on a system with better technical capability. These may be old projects like Team ICO's The Last Guardian, Rockstar's Agent, or Square-Enix's Final Fantasy Versus XIII. Similarly, recently-announced projects could very well declare themselves to be aiming for a next-generation launch, such as Ubisoft's Watch Dogs, LucasArt's Star Wars 1313, or Bungie's Destiny. The latter is particularly intriguing, as Bungie revealed Destiny yesterday with what was reported as the intent to debut on Xbox 360 and PlayStation 3. Today, that intent has shifted to the next Xbox and PlayStation consoles. This makes sense logically, as the project is hoping for longevity with such a connected game space, so consoles with futures ahead of them are ideal. There are many things to consider for the games we will be playing in the future, but it is clear that the software is essential for the hardware's success.
RELEASE WINDOW
Finally, if Sony wants a good way to build a three-month media and consumer buzz-fest, they need to announce a launch window. If it's going to be ready by Holiday 2013, say it and watch the excitement build throughout the year. It would be a great ending to hopefully terrific media event. If you're looking for the pricing of everything, expect to be disappointed – there is this event in Los Angeles in June called E3, after all. Anyhow, the last "PlayStation Meeting" featured the unveiling of the Next-Generation Portable (NGP), which ultimately came to be known as PlayStation Vita. For that conference, gamers pretty much knew what was coming. For as many secrets that still exist today, 48 hours before the "Future of PlayStation" event, Wednesday is shaping up to be a day that gamers should anticipate with rapt attention.
You have a lot to live up to, Sony. Try not to blow it, OK?
What do you think is likely to happen on Wednesday? What are you hoping to see?